This program compares the MD5 digital signatures of two files (using the MD5 message digest algorithm) to ascertain whether those files are the same or different. (Any two files are byte-by-byte identical if and only if their digital signatures are the same.) It also compares file in two folders as to whether the files they contain are the same or different.

Here is a sample screenshot: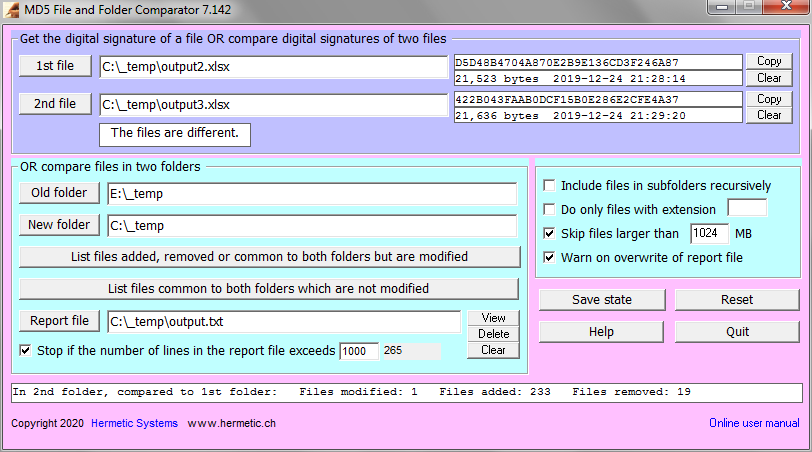 As an example of possible use, if you have copied files (and perhaps subfolders) in a folder to another folder (or to some external device) and later you wish to check which files have been added to, modified or deleted from, the folder which was copied, then this software can be used to find out by comparing the source folder with the target folder. The source folder or the target folder can be on any device, including CD-ROM and flash drive.

---
---
Network use: This software is able to compare files over some networks, but not necessarily all. To ascertain whether it works with a particular network, download the trial version and test it.

Trial version: A trial version of the MD5 File and Folder Comparator software is available for free download from this website for the purpose of evaluation. Click on the link below to go to a web page with further information:

Download MD5 File and Folder Comparator ...



Price and ordering: A user license is available for a period of 3 months or with no time limit (a 'perpetual' license). Prices for each type of license are given at Purchase a User License. An activation key is required in order to make the trial version fully functional, and can be obtained immediately (or soon after) your purchase.



Refund: A refund will be provided promptly up to 30 days after purchase if the software does not perform satisfactorily.